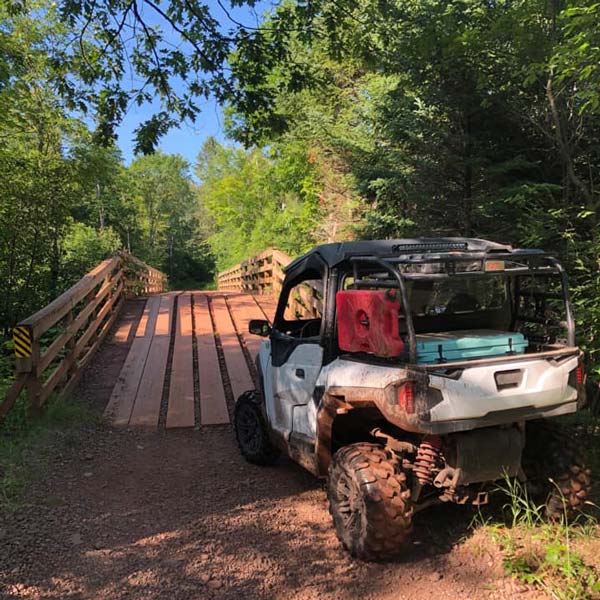 Take a ride on the wild side! ATV and UTV riders can travel deep into the 175,000 acres of the Iron County Forest for an extraordinary ATV adventure. Whether you're coming from near or far, you're sure to love the scenic beauty of the trails and the friendliness of Iron County. Slow down and see more as you travel through one of the largest ATV trail systems in Wisconsin.
The Iron County Forest offers ATV/UTV riders access to:
Camp & Ride ATV Trail Access
Four campgrounds are conveniently located on ATV trails in Iron County, with most campsites large enough to accommodate trucks and ATV trailers.
Four Seasons of ATV Riding
The Iron County Forest is open for ATV/UTV adventure in all four seasons. Typically, the ATV/UTV trails are open from mid-May through March 31 or when the trails close for the winter season. In the winter, ATVs and UTVs are allowed on the trails when the temperature is 32 degrees or colder. Winter trails are available through the cooperation of the White Thunder Riders and the Mercer Sno Goers.
ATV/UTV-friendly community
The Iron County ATV Association and Mercer Dusty Loons maintain 120 miles of year-round ATV/UTV trails. In addition to these marked trails, many towns in Iron County open their roads to ATVs and UTVs. Iron County, in general, is an extremely ATV/UTV-friendly community.
With the privilege of ATV riding comes the responsibility of operating safely and responsibly. DNR Conservation Wardens recommend that all ATV and UTV operators complete a safety course. UTVs are allowed in Iron County under the same definitions as the WDNR regulations.
Plan Your ATV/UTV Trip to Iron County
For information about trail conditions, ATV events, lodging, and dining visit: