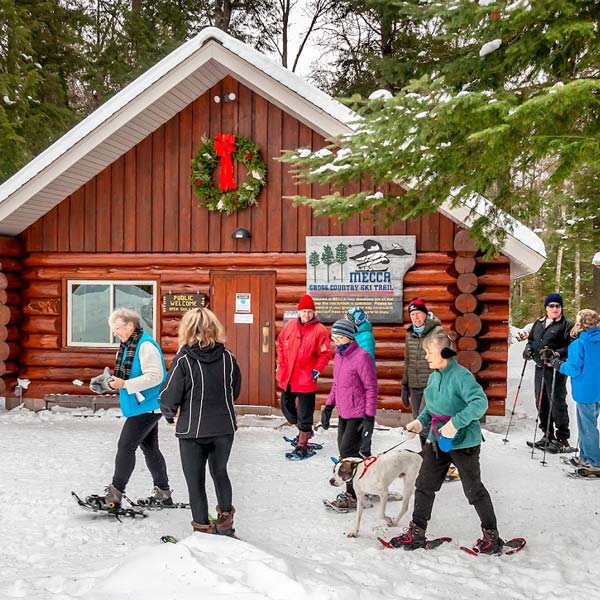 Discover the outdoors, enjoy nature, and experience the low-impact exercise benefits of cross-country skiing with family and friends in the Iron County Forest. With over 50 km (33 miles) of groomed XC trails, the Iron County Forest is a Nordic ski destination in Wisconsin's scenic Northwoods. Trails are groomed for classic skiing, with space next to the trails for snowshoers and hikers. Averaging 200 inches of snow a year, Iron County offers great winter ski conditions and lengthy seasons.
Mecca Trails
The Mecca Trails offer more than 15 km of groomed skiing on a rolling terrain, along with a 1.1 km loop for snowshoeing or hiking. The trailhead, south of Mercer, WI, has a heated log cabin with a changing room and toilet. Snowshoers are welcome but are asked to stay off the cross-country ski tracks.
Return again and again to Mecca Trails, open all four seasons of the year for outdoor activity. Cross-country ski in the winter, and hike or mountain bike in the spring, summer, and fall.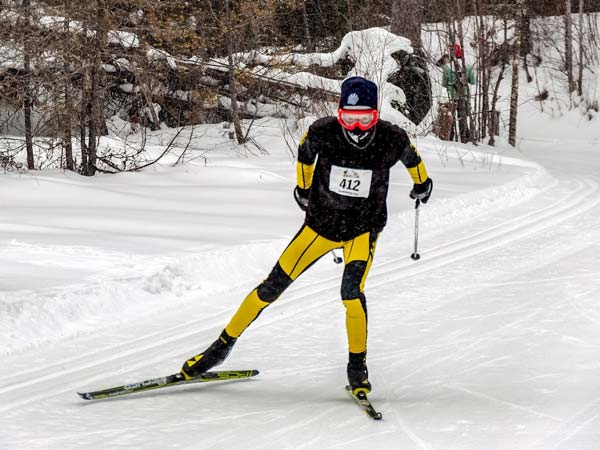 Uller Trails
The Uller Trails offer 18 km of skiing through remote, rolling, and hilly terrain in Pence/Iron Belt, WI. Start your ski adventure at one of the four trailheads, including Weber Lake, where skiers can stop at the cabin and build a cozy fire. All ski abilities are welcome on Uller Trails, but some stretches are suitable for advanced skiers only – those looking for a true, rustic ski experience. Skiers are rewarded with breathtaking scenery only visible from this backcountry trail. Conditions change quickly, so prepare for the weather and ski with a buddy. Snowshoers are welcome on Uller Trails but are asked to stay off the ski tracks.
Trailheads are located in Pence on Highway 77, Hoyt Road about 1 mile north of Highway 77, in Iron Belt on North Road, and at Weber Lake.
Montreal Ski Trails
The Montreal Ski Trails is an 11 km trail system located in Montreal and Pence, WI. The trails travel through the Montreal River Watergap in Iron County, not the Iron County Forest. Skiers glide through the remnants of the old Montreal iron ore mine. Access to the main trail can be located behind the Rose Wreath building off Highway 77 in Montreal. Visit the Montreal Ski Trails website for more information.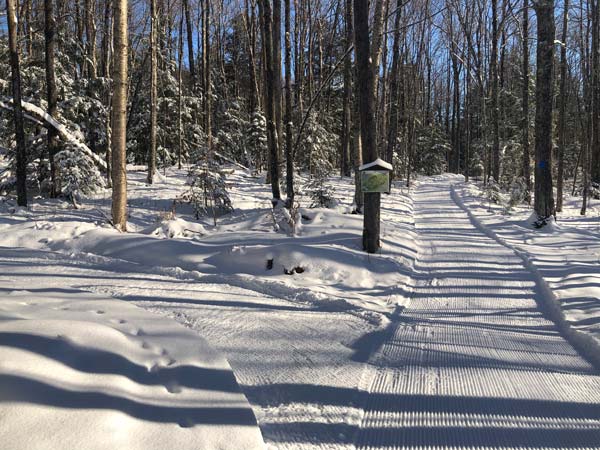 Plan Your XC Ski Trip to Iron County
Enjoy the natural beauty and silence of the Iron County Forest as you glide along the cross-country ski trails. Renew your mind, body, and spirit in Wisconsin's winter wonderland.
For information about trail conditions, ski events, lodging, and dining visit: